Our biggest event in two years!
At the end of March, we welcomed 130 delegates to our conference space, Lakeside Conference Centre (LCC), for The Society of Food Hygiene and Technology's (SOFHT) Innovation Day, held in partnership with onsite occupier Fera Science. It was our largest event since before the pandemic – a positive sign for in-person events returning once again.
We spoke to Dr Karen Middleton, Operations Director at SOFHT, who explains more about the event and how the society used the conference facilities at Lakeside Conference Centre (LCC).
What was the conference all about?
"SOFHT is an independent consortium of food industry specialists, set up to keep members up to date on current hygiene and technology issues, as well as to provide a forum for networking and sharing best practice in relation to the food industry.
"The idea for the Innovation Day came about when we realised how – more than ever before – the recent pandemic had fuelled innovation, improvement and development across the board in the food industry. We wanted to celebrate and showcase this, and so decided to host our first face-to-face conference since the pandemic hit.
"The event was designed for our member organisations, ranging from food retailers and manufacturers, to service providers, and the programme covered everything from innovation in cleaning and disinfection, to food, microbiology, pest control, technology and training."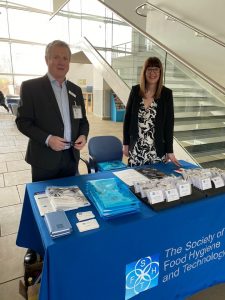 What did the day involve?
"The one-day event included a mixture of keynote presentations followed by breakout sessions, which meant attendees could choose workshops that related to their special interests. LCC is brilliant as a multi-purpose event space, and we were able to take advantage of its 250-seat auditorium, as well as break out rooms for our smaller sessions.
"What's more, the mezzanine floor is perfect for exhibition space. We had 22 exhibition stands held by suppliers, giving delegates the opportunity to talk about the innovations presented in the sessions one-on-one."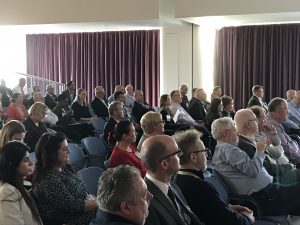 Why did you pick LCC?
"Fera Science, an onsite occupier at York Biotech Campus, is one of our long-standing members , so when they suggested LCC, we jumped at the chance of hosting our event here. Firstly, its central base just outside of York made it easily accessible for our members, who are based across the UK from Scotland, down to central London. The site is a short journey from York train station, and there is plenty of car parking spaces for those driving. People are realising that events don't need to be restricted to London, and it actually means more members based further up north can come along!
"With LCC also being based at York Biotech Campus, a thriving hub for bioscience including food innovation, it seemed an extremely fitting base to host our event. Not to mention that York itself is a catalyst for science research and innovation, with world-leading universities and organisations based here."
How was the events team at Lakeside Conference Centre?
"The team at LCC couldn't have been more helpful. We were still navigating through some Covid restrictions, but they were extremely supportive every step of the way. They helped us arrange accommodation for those that needed it at the nearby (and newly built) Sandburn Hall Hotel, and also worked with the onsite catering team to provide a cold buffet of sandwiches, oriental nibbles, crisps and cakes, which kept our members energised throughout the day!"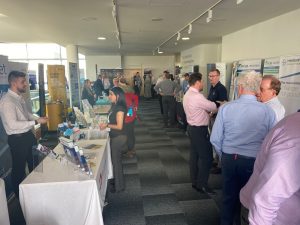 And what was the reaction to the event?
"We've had nothing but positive comments on both the event and the venue. The building is beautiful, with so much natural light that when the sun shone through it put everyone in a fantastic mood! We'd definitely use the space again and look forward to coming back."
Looking for conference space, an exhibition venue or meeting room hire? Get in touch.