Meet the Occupier: Labskin
Enabling high quality, animal-free skin research and testing with Europe's leading 3D skin model
Here at York Biotech Campus, we are home to many fantastic bioscience organisations, all working to find solutions to issues that our world faces.
One of which is Labskin, who offer the only commercially available lab-grown, full thickness human skin model which naturally mimics the real thing. Labskin is used in product development across the globe, acting as a replacement to traditional animal testing.
Labskin joined the campus back in 2014 and has expanded numerous times to keep pace with demand following the success of their product and business model.
From its inception at the University of Leeds to upcoming involvement in the fight against Covid-19, we caught up with Nicola Kingswell, Service Manager at Labskin, to shine a spotlight on the innovative organisation.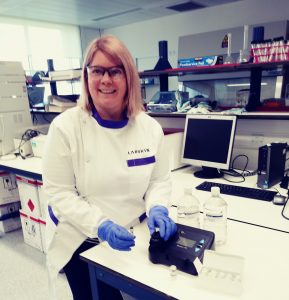 Can you tell us a little more about what Labskin does?
"What sets Labskin apart from similar models is that ours has a dry top surface, allowing us to transplant and culture the skin microbiome. This means we can study a product's effects not only on the cell's metabolism but also on the skin microbiome – it's effectively as if you're testing on real-life human skin!"
Do you have any exciting clients you can name?
"We work with companies from all around the world, testing cosmetic, skincare and pharmaceutical products. These include the likes of Estée Lauder, Unilever and L'Occitane – and that's just the start of a long list."
Can you tell us more about your business model and success?
"Our original Labskin business model was to sell our plates to clients to use in their own labs, however the packaging and shipping of this delicate material is very tricky and it can often deteriorate on long journeys, especially if it's not looked after correctly.
"So, in recent years, we have built our expertise in technology, in particular artificial intelligence (AI), through a collaboration with an AI firm based out of the University of Cambridge.
"The technology allows us to 'virtualise' our labs, meaning our clients can access test services from anywhere across the world. This process makes research and development much more affordable. It also means clients can test products quickly and effectively, giving them the reassurance that the product is (or isn't!) worth investing more time and money into.
"This is certainly one of our biggest achievements. Combining our knowledge of the skin and the microbiome with AI technology, provides our clients with a practical solution in a seamless process."
What exciting projects are you working on at the moment?
"We are currently working on the launch of remote clinical trials. Covid-19 meant we had to stop collecting volunteer samples completely – samples we need to ensure the skin we create is replicative of the real thing. We've seen an increase in interest from our clients in having various skin types to test on. Personalisation is popular at the moment and companies are on a mission to test certain products on a range of different skin types, going further than simply 'dry skin' or 'sensitive skin'.
"We knew we needed to find a solution to keep gathering samples – especially as social distancing measures are likely to remain for some time – which is where our remote clinical trials come in. Volunteers are recruited via a secure digital platform and the whole process is completely online, with volunteers sent collection kits and given video tutorials. This has just launched in September."
Tell us a bit more about the team onsite at York Biotech Campus?
"There are 15 of us based here in York, who work across research and development, the production of Labskin, delivery of client studies, quality, purchasing and administration.
"A lot of the team have been with us for a couple of years, but some members of the team feel part of the Labskin DNA. Julie Bradley, our Quality Manager, started in the labs over four years ago. She is very well placed in her role, knowing all the processes inside out.
"We're recruiting for more team members over the next few years, with the expectation to expand by another 50%. We have a strong product pipeline and portfolio and we need more hands!"
Why did you move to the campus?
"We needed a site that was accessible for our staff, and York gives us that mutual base. With its central location and with plenty of parking spaces, it was an ideal choice.
"But what really stood out to us is that the campus could offer us the space for expansion when it was needed – and it was certainly needed! The team here has always been accommodating and we're already in the process of another expansion."
What's your favourite thing about York Biotech?
"We love the wildlife! You're surrounded by 80-acres of gorgeous parkland and we're always on the lookout for interesting creatures. We have seen goslings being raised over summer, house martins, swallows, wagtails and lots of rabbits, to name a few…"
Finally, what's next for Labskin?
"The current global pandemic has opened up the opportunity for us to investigate the effectiveness of mouthwashes, handwashes and hand sanitisers on Covid-19. As you can imagine, there are not many human volunteers for this kind of testing!
"Labs based at the University of Aberdeen for example, will be using Labskin to test these products effectiveness against destroying the virus on skin. It's incredible to know that our product is playing such a vital role in the fight against Covid-19."
For more information on Labskin, you can visit their website.