A Year in Review: 2022, a year to celebrate!
After a couple of what can only be described as uncertain years, it was great to finally return to a sense of normality in 2022. We saw our Lakeside Conference Centre (LCC) once again operate at full capacity, occupier expansions (including a first of its kind lab!) and plenty of investment too.
We've reflected on our standout highlights from 2022.
1. Investment on campus
As a leading bioscience hub in Yorkshire, we understand how important site investment is so that our facilities and environment encourage and support the very best research and development.
Earlier this year, Fera Science invested £1m to convert a former storage unit into a purpose-built insect research laboratory, growing its presence at York Biotech Campus (YBC) by over 2,000 sq ft. What's more, there's been an additional £2m spent on installing and modifying specialist labs, creating some of the highest quality bioscience facilities in the region.
Just as important as the labs themselves is future proofing our campus and building resilience on site. This is why we're also invested over £2m on projects including a new building management system (BMS), chiller upgrades, CE room resilience and vacant space upgrades.
2. Events back in full swing
Like many event venues our onsite conference centre LCC has battled against numerous changes in social distancing rules, so we couldn't be happier to be back up and running at full capacity. In 2022, we're proud to have hosted over 150 meeting and events, with 2,500 visitors.
Highlights include hosting our biggest event in two years in March, when we welcomed 130 delegates from The Society of Food and Hygiene and Technology (SOFHT) for its Innovation Day in partnership with Fera Science. We also held the ICPPR Bee Protection Group International Symposium, an event that was attended by delegates from across the globe and involved us working with regional partners including Castle Howard.
On top of this, we welcomed back regular bookings from the likes of Sava Training, the Diocese of Middlesbrough and North Yorkshire County Council.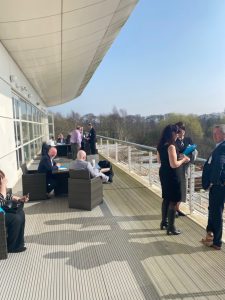 3. Occupier success
We've also been able to watch our occupiers go from strength to strength with new launches and exciting collaborations. Lateral flow test manufacturer Abingdon Health launched its first venture aimed at the general public, Abingdon Simply Test, which provides self-testing kits for home use, while Fera Science has been celebrating award success by scooping two York Press Business Awards.
We've also seen our occupiers collaborate, including Abingdon Health and Deepverge, who are working together on the development of new lateral flow tests for Deepverge's life science home test portfolio. Collaboration has gone beyond the campus as well, with Labskin partnering with University of Bradford's Centre of Skin Sciences to launch the first ever commercially available lab grown pigmented skin equivalent.
4. A sense of community once more
What's been most special is seeing our community return to the campus. Our onsite restaurant reopened, and we re-started our occupier update sessions – relaunched as Innovation Lunches – which give businesses at the campus the opportunity to catch up with our management team and other organisations based here.
Our campus management team has also been busy out and about with the local and national property, business and science community. Campus innovation manager Liz Cashon has taken part in Yorkshire Business Insider roundtables, and recently attended the United Kingdom Science Park Association (UKSPA) Winter Conference to learn about and discuss trends for science parks across the country.
5. In the press!
And finally, we've continued to showcase our campus and the work that goes on here in the media. We've profiled women in science at the campus in aid of International Day of Women and Girls in Science in Yorkshire Business Review; achieved widespread coverage announcing Fera Science's new insect research laboratory and regularly featured in Yorkshire Business Insider as a leading voice for bioscience in the region – to name a few!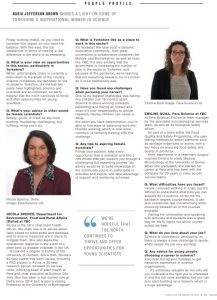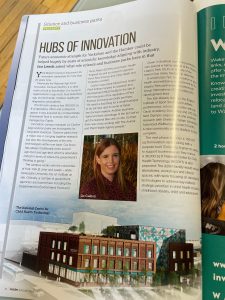 It was a fantastic year and already the start of 2023 is looking exciting, with new occupiers soon to be announced, plenty of expansions on the horizon and more record-breaking events set for the conference centre.